Teacher Education in Sub-Saharan Africa and The Open University (2016) Key Resource: Tools for Planning and Carrying out Investigations in Science. [Teaching/Learning Resource]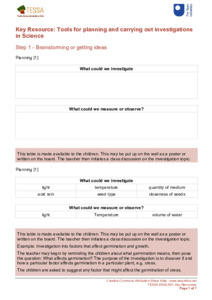 Preview
Text




key_resource__tools_for_planning_and_carrying_out_investigations_in_science.pdf

- Published Version
Available under License Creative Commons Attribution-ShareAlike (CC BY-SA 4.0) .
Download (304kB) | Preview
Abstract
,
Step 1 - Brainstorming or getting ideas
Planning [1]
What could we investigate?
What could we measure or observe?
This table is made available to the children. This may be put up on the wall as a poster or written on the board. The teacher then initiates a class discussion on the investigation topic.
| | |
| --- | --- |
| Item Type: | Teaching/Learning Resource |
| Program: | Tools for Planning and Carrying out Investigations in Science |
| Learning outcomes: | pupils are encouraged to use the information they have gained to further advance their knowledge and understanding. This kind of reflective discussion, where the group outcomes are shared, can be very useful |
| Access: | Open |
| Uncontrolled Keywords: | Open Educational Resources (OER), Tools for Planning and Carrying out Investigations in Science |
| Subjects: | Science General |
| Curriculam Level: | 9. Teacher Training |
| Depositing User: | COL Staff |
| Date Deposited: | 18 Feb 2021 08:50 |
| Last Modified: | 20 Apr 2021 13:24 |
| URI: | https://slb.oer4pacific.org/id/eprint/81 |
Actions (login required)