Mays, Tony, ed. (2021) Reversioning OER: A Guide for Teachers in the Pacific. Commonwealth of Learning, Vancouver, Canada.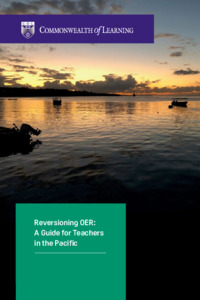 Preview
Text




Reversioning OER Pacific F.pdf


Available under License Creative Commons Attribution-NonCommercial-ShareAlike.
Download (2MB) | Preview
Abstract
This guide to reversioning open educational resources (OER) is intended to help
you adapt OER to the context of your own teaching situation. For example, you
may need to:
• simplify the language or writing style to meet the needs of your students
• replace images with more relevant, local images
• shorten the content of the resource to remove anything that is not
appropriate or needed for your students, or add information or activities
• change the order of information
We suggest that you have a notebook to hand as you work your way through this
guide so you can make notes and do some of the activities.
Actions (login required)