Mohamed Osman, Ridwan (2018) Classroom Management and Supervision. Project Report. African Virtual University (AVU).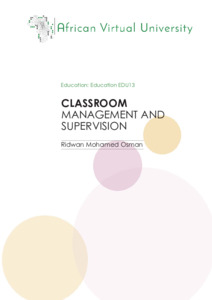 Preview
Text




Classroom Management and Supervision.pdf

- Published Version
Available under License Creative Commons Attribution-ShareAlike (CC BY-SA 4.0) .
Download (853kB) | Preview
Abstract
,
The ability to manage, lead and supervise students during the learning process has been shown to be an indispensable component of effective teaching and learning, more so in Sub-Saharan Africa where the challenge of overcrowded classrooms hinders effective teacher instruction in the classroom. For the classroom to serve its purpose, the teacher must be able to establish order. This requires him/her to have the knowledge, attitude and skills necessary. He/she must be able to establish rapport with the students and their parents, involve students in the processes of establishing ground rules for behaviour and being accountable for their actions, manage transitions during instructions, and motivate students to maximize time-on-task, supervise students in their learning activities and lastly deal with students' misbehaviour effectively. This module is expected to help students master these key skills. It will also equip them with the ability to be open-minded and creative about the application of these techniques to their challenges.
Actions (login required)